Home of the

Virtual Concert Hall Series
Orchestral Concert CDs publishes a series of live concert recordings with superlative, award-winning sound quality. Our unique recording process, CNSTR, was employed to create an 'audio mirror image' of each original performance, and the spectacular results speak for themselves. Despite their advancing age, these recordings rival the best modern releases, and our review quotations are littered with compliments about our sound quality. Indeed, our 1967 recording of Wanda Wiłkomirska playing Britten's Violin Concerto (CD12/2011) was described as "demonstration quality" by a former BBC engineer, and that recording recently won an award (see below) that describes its recording technique as "sensational". So, be sure to explore our range of similarly high quality recordings! If would like to know more about OCCDs, there's plenty to read on the About page.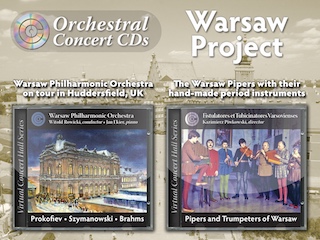 Help us to release more CDs!
18th March 2015
In a bid to triumph over some difficult circumstances, Orchestral Concert CDs has set up a KICKSTARTER project in an attempt to raise the necessary funds for another round of CD releases. We urge our existing customers to support us, and hope that anyone who cares about quality classical music will also make a contribution—so please spread the word!
Read more about our plans on this site or jump straight to our Kickstarter project and help us as best you can!
Our Kickstarter project is now over, and was a disappointing failure.
WINNER, German Record Critics' Award
5th November 2012
Orchestral Concert CDs is thrilled to have won the prestigious German Record Critics' Award (Quarterly Critics' Choice for Q4 2012 in the Historical Recordings category) with CD12/2011.
Translated into English, the award's verdict about the recording reads:
"Wanda Wiłkomirska presents herself here as one of the great storytellers on the violin. She plays one of the most important concertos of the 20th Century, and the recording technique is sensational. An unrepeatable constellation."
—Wolfgang Wendel
With reference to the award, Wanda Wiłkomirska commented: "Naturally I am delighted about the prize, and very proud."
Orchestral Concert CDs is particularly pleased that the award acknowledges not only the sublime musical performance but also the exceptional quality of the sound recording.
The "sensational" recording technique referred to in the award verdict – known as CNSTR – is not unique to this disc; as our standard approach, it is used with all recordings in the OCCDs range.
Major Announcement
November 2011
With immediate effect…
The entire range of Orchestral Concert CDs issues has now been commercially pressed to top professional standards of manufacturing quality, and rereleased under the new "Virtual Concert Hall Series" branding.
Previously, the CDs were created on demand by Geoffrey Terry, and were supplied almost exclusively through this site. A recent large order from a distributor, however, provided the financial impetus and incentive to have the discs commercially pressed. They are therefore now available in the same physical format as any other commercial CD, and the opportunity has been taken to provide consistently designed booklets and artwork across the range.
This site has been fully updated to reflect the new range of CDs, which are now supplied shrink-wrapped with clear inner trays and professionally designed, full-colour printed materials throughout. The same designer who created the site has also created the new CDs, ensuring perfect consistency throughout the Orchestral Concert CDs branding.
Also now available is a newly updated FREE Sampler CD, containing an extended, high quality excerpt from each CD in the current range of fourteen discs. Physical copies may be ordered at a low price to cover materials and postage, or the entire disc may be downloaded from this site, including printable inlays and disc label in the same style as the rest of the new range.
Site last updated: 16th May 2015